Mission of our Management Academy
The organizations are only as good as the people that work in them. Our mission as a Management Academy is to provide high-quality capacity development opportunities for the organizations which see their growth through the professional development of their people. .
Services
Trajkovski & Partners Management Academy is a Division of Trajkovski & Partners Management Consulting dedicated to serve the management and professional development needs of:
Managers and professionals in SME and Public Sector
Management Consultants
IT managers and professionals
International Development Project Managers, Professionals, Assistants and Staff
T&P Management Academy recognizes four types of trainings: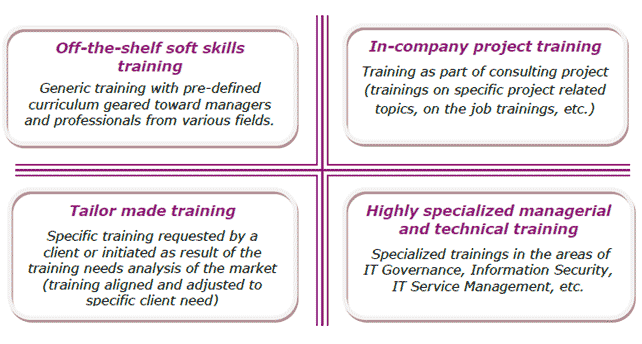 As part of our Management Academy, in 2015, we have established an e-Academy that covers various topics of online trainings.
Our Management Academy is devoted to providing tailor made professional development opportunities to enable organizations to remain competitive in the today's dynamic market. We design our programs following the recommendations from ISO 10015 standard, which analyses the organizational performance gaps and finds solutions through improvement of capabilities of employees who are directly involved in realization of the processes.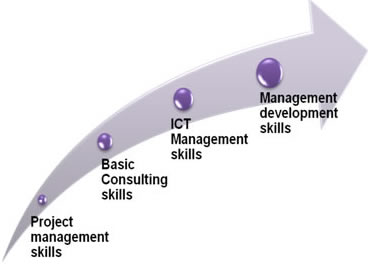 Our training program covers various topics, as presented on the picture, but this list is not exhaustive, as we create the training to fit your needs, thus having an endless list of topics and subtopics that can provide your organization with the required skills and competences

The training topics are based on world's best practices and in emerging fields of specialization required by competitive managers and professionals.

T&P Management Academy is delivering "off-the-shelf" and "special developed by request" workshops and training modules.

The catalogue of T&P trainings can be found on the following link: Training catalogue.

T&P training focus for the following period is presented in the Strategic directions for Management academy and for more details see the Training catalogue.

More information for the Management Academy division you can find in the T&P Company profile for T&P Academy.